Kathryn Ann Brown
Kathryn Ann Brown, 70, of Redmond, WA, beloved sister and aunt, died Oct. 8, 2019. The cause of death was Alzheimer's disease.
Kathy was born Jan. 26, 1949, in Phelps, WI, to Lawrence Brown and Jean Brown (Hill). She was their third daughter, followed by three sons.
An avid reader before the terrible disease stole that ability, Kathy often finished a book a day. She especially loved mysteries. As a child, Kathy started a list of books she had read and added to the list most of her life. That was an early sign of the record-keeping and organizational talents she put to good use as an outstanding student and in her work life.
Kathy was a longtime active volunteer for the non-profit King County Library System Foundation, which raises funds for the KCLS, and served as its president in 2010-11. She was especially proud of the Foundation's role as the system added new library locations, including in shopping malls. When the separate Seattle Public Library system was about to open its new downtown building in 2004, she excitedly told relatives about the services it would offer and its innovative architecture. Kathy helped instill a love of reading in her niece and two nephews by giving carefully selected books as birthday and Christmas presents.
Kathy loved to travel when she could get away from her busy workplaces, most recently flying to Ireland in 2012. She was a wine connoisseur who shared her studied selections with family and at book club gatherings, and also enjoyed genealogical research. She maintained her appreciation of rock and roll — and its singers — all her life, remarking at a 2004 Crosby, Stills and Nash concert that Graham Nash was "still hot."
Kathy was graduated from Waukesha (WI) South High School in 1967. She earned a B.A. in Anthropology and an M.A. in Library Science at the University of Wisconsin-Madison. The late 60s and early 70s were a turbulent period at the university. More than once Kathy and her apartment in downtown Madison were exposed to tear gas during anti-war and civil rights demonstrations.
In 1973, Kathy left Madison and her hometown of Waukesha for Washington, D.C. to attend law school. She was awarded a law degree from Georgetown University in 1977. She earned that degree while also working at various times at the Library of Congress Congressional Research Service, the U.S. Supreme Court Library, the Georgetown University Law Center, and a Washington, D.C. law firm.
After law school, Kathy moved to New York City to work as a corporate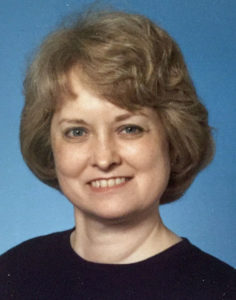 attorney. Her first of several jobs there was as an Associate with the law firm of Chadbourne & Park, at 30 Rockefeller Plaza. Her residences in Manhattan included 15 years in an apartment in Greenwich Village, two blocks from Washington Square.
Kathy moved to Seattle in 1993 to work as an attorney with The Boeing Co., where she served as Assistant Corporate Secretary. Her duties included preparing proxy statements and handling the process for issuance of stock and debt securities. She also played a major role in Boeing's mergers and acquisitions.
After Boeing moved its corporate headquarters to Chicago in 2001, Kathy worked as an attorney for several other corporations in the Seattle area, including Intermec and Alaska Air Group, before retiring. She lived in Seattle and then a condo in Bellevue, and for the last 5 years of her life, in senior living and memory care facilities in Redmond. The family is grateful for the loving caregivers at Fairwinds Redmond and Aegis of Redmond. We know you'll remember Kathy's blue eyes and the smiles you were able to bring out in her.
Kathy is survived by two sisters, Phyllis Brown, of San Diego, CA, and Judith Brown, of Seattle, WA; three brothers, Richard Brown (Marguerite), of Redmond, WA, and James Brown and Daniel Brown, both of Austin, TX; a niece, Laura Brown, of Redwood City, CA; and two nephews, Sam Brown, of Okinawa, Japan, and Henry Brown, of Sunnyvale, CA. She was preceded in death by her parents.
Donations in Kathy's memory are suggested to the Alzheimer's Association or the King County Library System Foundation.
The family plans a private memorial gathering.