Arvo Rahkola, July 6, 2008
Our beloved, Arvo Rahkola, passed away on July 6, 2008. He was 98 years old.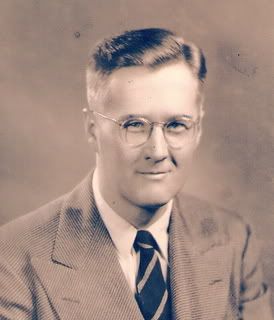 Arvo was born on October 18, 1909 in Astoria, Oregon. His parents, Erick and Ida Rahkola were immigrants from Finland. He had one brother, William (Eric) Rahkola of Depoe Bay, Oregon.
After moving to Portland, Oregon, Arvo graduated from Jefferson High School. He then graduated from Monmouth Normal School where he was Student Body President. He began teaching in Tillamook, Oregon. He then received a tennis scholarship and obtained his Bachelors Degree in Education from Linfield College. While in college, he also played football.
He moved to Culver, Oregon and taught in a two-room school house. During summers, he worked on graduate studies at the University of Washington where he played basketball with Hec Edmundson.
During WWII, Arvo enlisted in the Army and was sent to St. Louis to attend Washington University's civil engineering program. He was then sent to Europe with the US 9th Army until the end of the war.
Upon returning to the US, he enrolled in the Masters program at Columbia University's Teachers College. He then worked for the US Occupational Forces in Japan to reconstruct the public school system. It was there that he met and married his wife, Matsuyo.
During the War in Korea, he was employed by the United Nations Korean Reconstruction Agency (UNKRA), where he managed reconstruction of the public school system in that country.
In 1959, he moved his family to Bremerton, Washington where he was employed in Civilian Personnel at the Puget Sound Naval Shipyard. He lived on Ironsides Avenue in Manette for over 40 years. His time there was interrupted to work for the US military on Okinawa, Japan. Upon returning in 1970, Arvo retired.
He lived in Bremerton until 2004. He was preceded in death by his wife, Matsuyo in 2001. Arvo is survived by his son Eric and grandchildren, Eliza and Hayden, of Sammamish, Washington. He will be interred at the Tahoma National Cemetery. By his request, there will be no services. You were a wonderful man and we miss you so.