Death Certificates
In the past we have helped the families we serve obtain death certificates at the same cost that the counties charge, $20 each. We regularly visited the King County Vital Statistics Office to pick up them up.  In that way we were able to get death certificates to the families fairly quickly.  All that has changed. Now the fastest way to obtain death certificates is for you to order them directly from King County and pay a small handling fee.
If we order them for you, we incur the same small handling fee ($4.00) which we pass on to you.  If we mail them to you after we receive them, there may be a delay getting them to the U.S. mail or FedEx. Regrettably we have to pass these forwarding fees on to you. Otherwise you may pick them up at one of our offices.

King County Vital Statistics Office may be experiencing personnel shortages during the current emergency. Please be patient.
Be careful not to order death certificates through third parties who are taking advantage of people.  The Department has a warning about this on their web site:
The Washington State Dept. of Health has received an increased number of calls about third party vendors selling birth, death, marriage and divorce certificates. These companies charge customers high fees to "process" or "help apply" for certificates issued from the Department of Health. If you have ordered through one of these third party companies and would like to file a consumer complaint, visit the Washington State Attorney General Consumer Protection Division.

For the fastest service, without high fees, we encourage customers to order certified copies only from our office, King County Vital Statistics per instructions below, Washington State Dept. of Health, your local Washington state county health department or through our contracted vendor, VitalChek, at www.vitalchek.com
There are now two options to obtain death certificates; Order through Vital Chek, or order by the mail enclosing a check for payment of your order.
Follow these instructions to order by mail:
Download order form, and fill it out completely. 

CLICK HERE TO DOWNLOAD ORDER FORM

Enclose check or money order for the cost of the certificates ordered ($20 each times the number ordered) plus a $4.00 handling fee.
Checks and money orders should be made payable to: Vital Statistics.
Mail the order to:
Vital Statistics
Mailbox 359784
325 Ninth Ave
Seattle, WA 98104-2499
Death certificate orders received through the mail take approximately two weeks, which includes time for US Post Office delivery. Due to uncertainties associated with the COVID-19 Pandemic, these times may be extended, possibly due to personnel shortages at Vital Records of the US Post Office.
For Possibly Faster Service
VitalChek is a third party vendor that has been approved by most states to facilitate and expedite ordering death certificates. VitaChek can help you expedite receipt of your certificates if it is important to receive them quickly.
The web site is a bit difficult to navigate so be patient.  CLICK HERE TO ORDER BY VITAL CHEK
The first page asks you to check your state. We are dealing with WA. Then press "Continue"
Next select your city where the death occurred. If you select "Seattle, or Kirkland" it will bring up information for King County Vital Statistics.
On the page titled "Select a Death Certificate," it will display the VitalChek fees, except for Shipping Fees
Clicking on the box for Death? "Select" you will be presented with this information: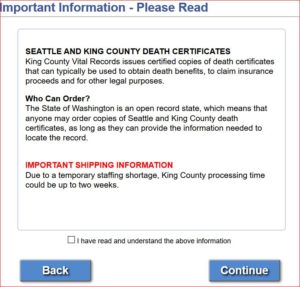 Now you know that the King County Vital Record Office is experiencing personnel shortages due to the coronavirus.
You can continue with the order and pay expediting fees to send the certificates faster once they have been processed by Vital Records, but there is currently NO way to get them faster than a direct order during the current emergency situation.
Sorry