Death Certificates
NOTE: Washington State has announced that on December 30, 2020 the price of death certificates will increase to $25.   After that date, return to this page for current instructions.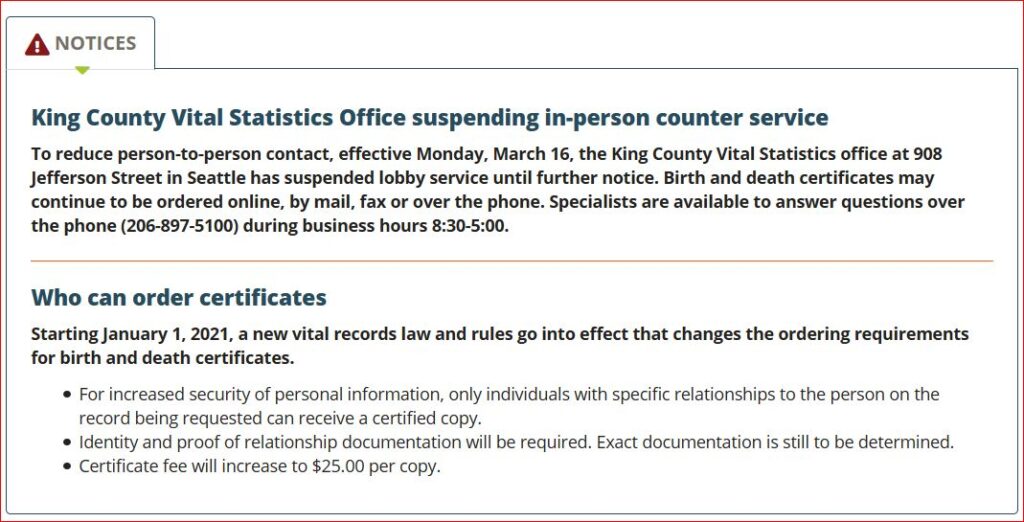 __________
To order death certificates in King County during the last days of 2020, go to the King County Health Department's website for full instructions:
Snohomish County:
Pierce County
Beginning on January 1, 2021, a new vital records law goes into effect that changes the ordering requirements for death certificates.  A copy of the brochure explaining the new procedures can be downloaded HERE in PDF format. (Opens in a new tab)
_________
VitalChek is a third party vendor that has been approved by most states to facilitate and expedite ordering death certificates. VitaChek can help you expedite receipt of your certificates if it is important to receive them quickly.
The web site is a bit difficult to navigate so be patient.  CLICK HERE TO ORDER BY VITAL CHEK
The first page asks you to check your state. We are dealing with WA. Then press "Continue"
Next select your city where the death occurred. If you select "Seattle, or Kirkland" it will bring up information for King County Vital Statistics.
On the page titled "Select a Death Certificate," it will display the VitalChek fees, except for Shipping Fees
Clicking on the box for Death? "Select" you will be presented with this information: